Today I am linking up with
Reinventing the Ordinary
's Puppy Photo Party & Cats. I never need to be asked twice to post a picture or two of my squishy face bulldogs! :-) Despite how mischievous the two can be they always seem to melt my heart.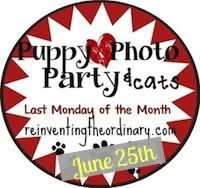 Buerly and Rooney cuddling in the sun
(Buerly is the brown English Bulldog and Rooney is the white and black brindle English Bulldog).
Bribing with food is one of the few ways we are able to get them to sit still for a picture together
Playtime
Buerly and his big brown eyes......melt
Playing in the yard with his ball, of course
Rooney aka The Cuddler
He's smiling! :-)
Well, I think that I have overloaded you with enough pictures of my two furbabies for one post. If you have a furbaby, make sure you link up to
Reinventing the Ordinary
to enter a chance to win a cool canvas print of your furbaby's beautiful face!!
Have a wonderful Tuesday!